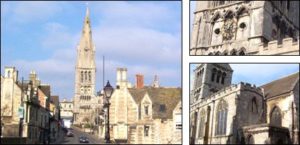 St Mary's is not a particularly old foundation, but it was in existence by 1146. It stands in an island site, surrounded by Georgian buildings on St. Mary's Place and the erstwhile Stamford Hotel very close to the north side. It is sometimes called the mother church, but this may have more to do with its connections with the borough corporation and town guilds.
The earliest parts of the church date from the late 12th century, but the fine tower is early 13th century Early English work, and the soaring broach spire was added in the 14th century
The extension of the north chapel, dedicated to the Corpus Christi Guild, with a magnificent starred ceiling, dates from the same time.
There were various repairs and rebuilding, and an East window added by Edward Browning in 1859. In 1890 the architect J.D. Sedding rebuilt the vestry, and installed a new altar and screens.
In the late 19th century and early 20th century, St. Mary's became the subject of many debate with reference to its ceremonial practices and internal ornament. In 1890, the Rev. St. John-Mildmay had been appointed as Rector, and proceeded to introduce High Church practices.
Stamford at this time was "intensely Protestant", and there was great distrust and suspicion of anything which involved "ritualistic practices", or smacked of popery.
"When I was first ordained in 1838, (wrote a Victorian parson) the cross or even the candlesticks on the altar was looked upon as popish. Flowers on the altar were considered the same."
The Stamford Mercury complained that he wanted… "to make the parish church look – as we understand it – a little more like a Popish mass-house Where will Mr. Mudmay end?"
Mr. Mildmay, having instituted High Church practices at St, Mary's, left the parish in 1899.
When the Rev. Tickell was appointed as Rector in 1905, there was even more controversy, and he seems to have offended a large proportion of his parishoners. He resigned and left the parish in 1907, but St. Mary's church carried on with High Church practices.