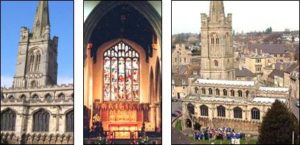 All Saints is one of Stamford's oldest churches, recorded in the Domesday Book of 1086. Standing on an island site between All Saints' Place and Red Lion Square, it dominates the market area between the Danish borough and the Castle area.
A very little 12th century masonry remains in the north east corner of the nave, but the fine blind arcading on the south and east sides, and the internal arcades are all 13th century Early English work, and this forms the core of the church.
The rest of the church, including the tower, the crocketed spire and the windows, are all in the 15th century Perpendicular style. They are the result of major rebuilding by William and John Browne, wealthy Stamford wool merchants, whose merchants' mark can be seen in the church, as well as brasses of the Browne family.
The box pews and vestry, designed by Stamford architect Edward Browning, date from 1856, and all the stained glass is Victorian.
The antiquarian William Stukeley was vicar of All Saints for 18 years, from 1730 to 1747. The living at the time he held it was worth £200 a year. He lived first in All Saints vicarage at number 16, Barn Hill, and later moved to a bigger house at 9, Barn Hill. While in Stamford, he published some of his most important work, including his book on the origins of Stonehenge and Avebury.
All Saints is 1 of the only 2 churches in Stamford which have a full ring of bells still remaining. (The other is St. Martin's.) Francis Peck, in his 'Antiquarian Annals of Stamford' of 1727, wrote that the tower contained 5 bells and a sanctus bell. The tenor bell weighed 15 cwt. The inscriptions on them read:
1 Haec nova campana Margaretta est nominata
2 Nomen Magdalene campana sonat melodie
3 In multis annis resonet campana Johannis
4 IHS Nazarene Rex Judeorum Fili Dei miserere mei Cornelius Edis and Thomas Lenton Churchwardens 1725
5 God save the King, Tobias Norris cast me, 1674
They were recast by Robert Taylor in 1808, the tenor now weighing 14 1/2cwt (737 kilograms). Another bell was added to make a ring of 6.
In 1924-5 they were retuned and re-hung in a new steel frame, at a cost of £450.
In 1979, the fourth bell, having been cracked for some years, was recast again, and now bears the inscription:
TINNTINABULUM NON lAM FRACTUM EST All Saints Company of Ringers 1979.
During the 19th century several people performed the feat of climbing All Saints' spire by the crockets, the projecting stones which decorate it:
2 youths in 1814
Henry Richard and Thomas King in 1816
Charles Blake in 1827
Monk – 'one of the most noted and daring Bullards of his day'.
One of the climbers said the only anxious moment he had was trying to regain the top crocket after swinging off the very top of the spire!
"The projecting stones on which they stepped in ascent are 26 in number, 3 feet asunder, and the summit of the spire is 152 feet from the earth."