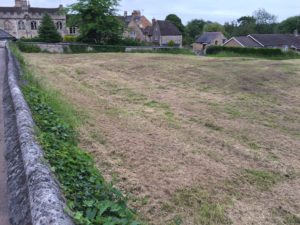 The uneven and bumpy surface of the field by Austin Friars Lane is the only visible feature (apart from the road sign) to suggest it was once the site of the Austin (Augustinian) Friary, a medieval monastery.  There are no structural remains or written records to give us an idea of what the buildings may have looked like.
The site was first occupied by a small house of Friars of the Sack, an order suppressed in 1317, their land here eventually being granted to the Austin Friars.  In 1342 Robert de Wodehous, archdeacon of Richmond, had a license to build and found an oratory and dwelling houses for twelve Austin friars, and by 1345 at least part of the monastic church had been built.
There were only six friars left when house was eventually dissolved in 1538.  The buildings were soon destroyed and the stone removed.  The site was excavated in 1712 and, from descriptions made at the time by local antiquarians Forster and Peck, it seems that the monastic buildings had been arranged around a central courtyard.  The descriptions were alas too inconsistent and imprecise to allow a satisfactory reconstruction. The earthworks in the field are no help as they are mainly spoil heaps from the 1712 excavations, though the large rectangular depression in the middle may have been a pond of relatively late date.
Forster recorded that human bones and glazed tiles had been unearthed and also "stone pillars and windows . . . which render the structure very magnificent".  Artefacts found on the site were taken to embellish other buildings around Stamford.  the finest surviving piece is a cusped panel with a carved head at its centre, possibly a section of panelled walling or the side of a tomb chest (not a roof boss as formerly thought).  This was recovered in the 1980s from a building in the High Street and is now in Stamford Museum.