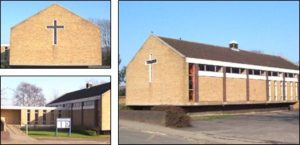 Christ Church is the newest parish church in Stamford. In 1959 it was proposed to build a new church to serve the expanding residential area in the north of the town.
A wooden hut (still standing) was erected on Willoughby Road as a daughter church to St. Michael's, and dedicated in 1961. It was affiliated to St. John's when St. Michael's closed in 1962. For the next 10 years the hut served as a place of worship as well as a community centre.
In 1972 Christ Church became a conventional district within the parish of St. John's, and in 1975 work began on creating a permanent building which would be a parish church in its own right. Land was acquired on Green Lane, and by 1978 the flat roofed part of the building was complete. Stage 2 was to construct the main church on top of the old water tank on the site! The tank now forms a basement below the church (completed in 1979) for TeenZone. Christ Church became a formal parish in 1992.