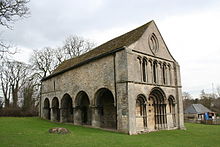 Now in ruins, St Leonard's Priory was founded by Benedictine monks in the early 12th-century, possibly on the site of an earlier monastery founded by St Wilfrid in 658 and later destroyed in the Danish invasion.
It was jointly refounded by William the Conqueror and the Bishop of Durham in c1082 and remained a cell of Durham until its dissolution in 1538.  It is a fine example of Norman architecture with an impressive ornately carved West Front, built around 1150, and fine arcade along the north side.
St Leonard's Priory has been designated a 'Scheduled Ancient Monument' and it is a Grade I listed building.