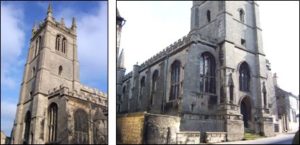 St. Martin's was founded by 1146, and possibly earlier. By 1473, the chancel was described as 'ruinous', and the church was entirely rebuilt during the second half of the 15th century; possibly c.1482. It is the only medieval church outside the town walls to survive.
It used to be thought that the 1461 sack of Stamford by Lancastrian troops had badly damaged or virtually destroyed many of Stamford's churches, but now it is thought that the complete rebuilding of 2 churches, St. Martin's and St. John's, and the partial rebuilds of the other churches, stems more from the wealth of the town at that time, and the desire to build magnificent structures to worship in.
St. Martin's church houses the monuments and tombs of the Cecil family, the earliest being that of Richard Cecil, a courtier to Henry VIII, who benefited financially from helping Henry with the dissolution of the monasteries.  His son, William, Lord Burghley, was Chancellor to Queen Elizabeth I, and died in 1598.
The north chapel was extended in 1865, the only Victorian addition to this complete Perpendicular style church.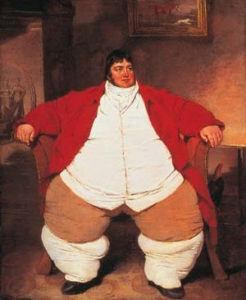 In the burial ground to the rear is the tomb of Daniel Lambert, who died in 1809, weighing 52 stone 11 lb (739 lb; 335 kg).