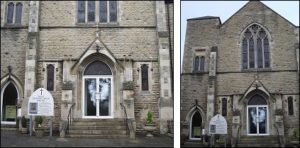 The original Trinity Methodist chapel was built in 1804 at the expense of Miss Frances Treen, who also provided a house for the minister. The total cost to Miss Treen was £800. It is this which can still partially be seen between the minister's house, 10, Barn Hill, on the left, and the present church on the right. A licence for worship was granted in December 1803.
In 1838 improvements were added to the chapel: galleries, new pews, and gas lighting, and in 1863 the chapel was extended to the south.
In 1886 the present chapel was built, on land acquired in 1882. It was designed by Stamford architect J.T. Ward, and built by Stamford builders Scholes, Rouse and Clarke, at the cost of £1,923. The old chapel was converted to a Sunday school building in 1929.