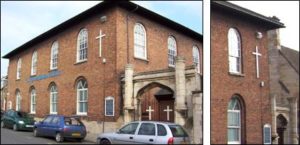 The first meeting-house for Dissenters was called the Congregational Chapel and was erected after 1672; situated on the south side of St. Paul's Street, near the conduit. It was destroyed by a Jacobite mob in 1714.
A new chapel was built in 1720, on Star Lane, capable of holding 300 people. Between 1729 and 1739, it was closed for repairs due to problems with the roof. No minister is recorded between 1770 and 1780. This Independent Chapel, also known as the dissenting meeting house, was demolished in 1819, prior to being rebuilt. Until the new building was ready, the congregation met for worship in the Assembly Rooms.
The present Star Lane chapel, now called the United Reformed Church, was built in 1819, at a cost of £1,800. It had a gallery running round 3 sides, providing enlarged accommodation for 800. (Not so many now.) It was described as 'a plain but convenient edifice, constructed rather with an attention to the devout, than with a view of adventitious decoration. The interior, however has an air of neatness, and when lighted has a respectable and imposing appearance.'
The stone arch gate was originally one of a number in Browne's Hospital, Broad Street (another is found in All Saints' Street).