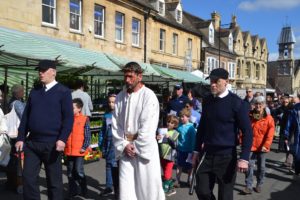 There was silence, punctuated only by a haunting drumbeat, as a thousand Christians walked to witness Christ's crucifixion and resurrection through Stamford High Street and the Broad Street market. They were led by a man carrying a cross, onto which he was raised in a dramatic presentation.  Sotto voce, one stallholder was heard to say to another "There's an awful lot of Christians in Stamford, aren't there?", to which he got the reply "Yes, but that's because we've got so many churches".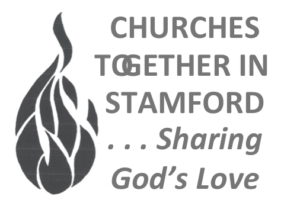 Here is a well-produced video of our 2017 walk of witness.
The 2018 walk of witness will be at 12 noon on Friday March 30th at St Michael's at the bottom of Ironmonger Street.
Click here for the next news page.