Nicola Dunkin, Chair of Churches Together in Stamford, writes:
A year ago I was sitting in the Methodist Church, following a training day on healing and wholeness, when I had a picture in my head of me and others praying on the streets in Stamford. My initial response was "No way! I can't do that! Not in a million years!" followed by "Yes you can because I will be with you."
This last year has been taking up with waiting on the Lord. He put this ministry on people's hearts, he brought people to pray for us, people to train us, the money we needed to set up, places to be for our training, storing our 'gear', somewhere to pray before setting out and eventually, with 2 weeks to go, he gave us a place to operate!
It has been a long, and at times very rocky, road but when we stepped out on Friday 3rd June we knew the Lord was with us and it was worth all the lumps and bumps on the way. We were blessed with being able to pray for and with 8 people. It is very humbling to have unknown people walk up to you and ask you to pray because they are in a hard place and want God's help. We were also approached by a couple from another town who thought it was an amazing ministry and want to set up one like ours.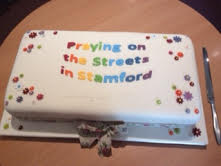 It was great too to explain what we were doing to other Christians who have heard about us but didn't understand what that looked like. Two days later we had a great commissioning service at Barn Hill, organised and led by Rev Andy Fyall and assisted by John Chambers, chair of POTSS exec group, and attended by people from most of the Churches in Stamford (celebrating with an amazing cake!). We are an ecumenical group, believing that we should be standing together as Christians in Stamford, taking God's love out onto the streets to meet with those at their time of great need . . . and that's exactly what we did.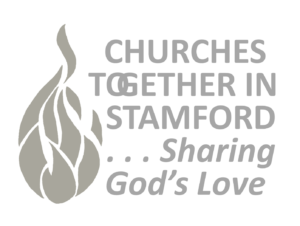 If you are a Christian and would like to join us, please contact us.  If you would like us to pray for you, please look out for us.
Click here for the next news page