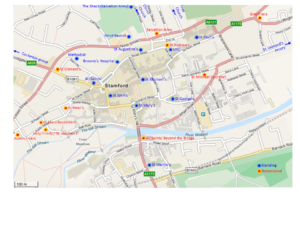 Stamford has expanded significantly to the north over the last 60 years.  Two 20th-Century churches are located in these housing developments: Stamford Free Church (Baptist) and Christ Church (C of E).  Also in Churches Together is the delightful Great Casterton village church to the north west of town.
The map shows in red the posited locations of 7 demolished and long-lost medieval churches: St Mary Bynnewerk, Holy Trinity / St Stephen's, St Peter's,  St Clement's, St Andrew's, St Michael Cornstall, and All Saints' Beyond the Bridge.  The list is probably incomplete.  Stamford also had several monasteries with chapels.  At the eastern extremity of Stamford is the half-ruined St Leonard's Priory.  Nearby only the gate remains of Greyfriars (which most locals incorrectly call Whitefriars Gate).  Just outside St. Peter's Gate at the west end of the town walls was the Austin Friary.
Stamford shares in the Fenlands' long history of non-conformity, and saw many Baptist and other Non-conformist chapels that flourished for a while but are now gone.  The Life Church decided to merge into St George's in 2014.  The Salvation Army has vacated its premises in East Street and joined with Peterborough.